HIGH QUALITY EQUIPMENT FOR CIVIL WORKS
EVOMAQ is a Brazilian company and manufacturer of mini continuous flight auger drills (mini CFA), concrete pumps and exclusive platforms.
We offer innovative equipment for the civil construction market that can be produced in different versions.
Customer message
Evomaq's equipment served our business perfectly, producing good profitability and eliminating many operating costs. The company promptly assists in the replacement of parts and components, which generates more confidence and satisfaction with the machines used in our works. Through Evomaq it was possible to find a positive innovation solution in the foundation market. Engineer Luis Aurélio - Soenvil Engenharia / Assis-SP, Brazil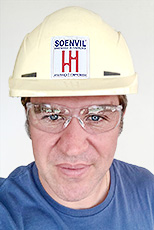 Evomaq has been in constant evolution for more than 20 years and meets the market demand with great agility, commitment and offers a low investment and maintenance cost to its customers.