CONTINUOUS FLIGHT
AUGER - CFA
The First Small-Sized Equipment and Market Leader
Innovative drilling rigs designed to meet small and medium-sized projects with high quality. Developed to optimize transport logistics, the EVOMAQ® CFA drills combine robustness and practicality never seen before in this segment.
The EVOMAQ® CFA drills have several unique and special features that make this equipment an excellent investment for various sectors of civil construction, such as Foundation, Earthworks, Concrete Plants, Construction and Transport.
"The first small-sized CFA equipment developed in Brazil."
Patent granted to Evomaq®


LOWEST MOBILIZATION COST

OF THE MARKET

The small size of the EVOMAQ® drill rig aims to facilitate transport in dense urban areas and significantly reduces the cost of mobilization to the construction site. In addition, it allows easier assembly of the equipment and high drilling production.
ABSENCE OF NOISE POLLUTION
The EVOMAQ® CFA has another great advantage in its monitored pile system, since it produces extremely low noise and vibration level during its use at the construction site.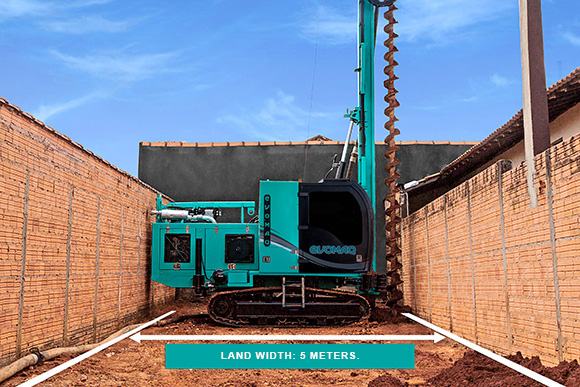 ACCESS TO LANDS OF

5 METERS WIDTH

The EVOMAQ® CFA drill is able to execute the pile foundation in complex areas of at least 5 meters wide on the ground, without affecting neighboring constructions.

The size of the land where the drilling is carried out is quite relevant, as they are generally small and difficult to access, making it impossible to move large machines at the construction sites, making the foundation cost more expensive.
MAIN EVOLUTION:

MOBILIZATION, TRANSPORT AND ASSEMBLY

The main innovation of the EVOMAQ® CFA is to facilitate, streamline and reduce the cost of mobilization. The equipment can be transported in trucks, without the need for large transportation platforms.

The EVOMAQ® CFA drill was developed to transport and assemble your augers through a rack and lifting winch, without the need for another truck.

Its assembly operation is simplified and extremely fast, speeding up the start of work on the construction site.

KNOW THE EVOMAQ CFA MODELS
Continuous Flight Auger Drill
P50/17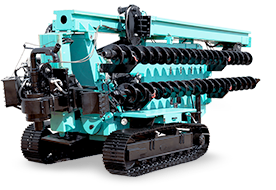 Continuous Flight Auger Drill
P50/20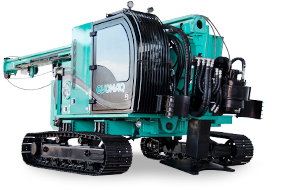 Continuous Flight Auger Drill
P80/20