Continuous Flight Auger Drill (CFA Drill)

P50/17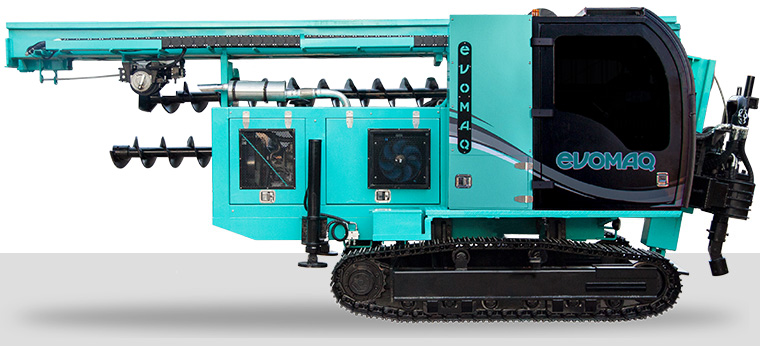 The EVOMAQ® P50/17 drill balances agility and productivity with easy-to-use technological resources. Its small size facilitates transportation and reduces the total cost of mobilization. With a low level of noise and vibration, it is capable of operating close to the existing buildings on the construction site. With torque and engine options, it is a perfect device that offers low maintenance costs.

Excellent high production drill for investment in civil construction.
SPECIAL FEATURES
AND RESOURCES
Monitoring Computer
The Continuous Flight Auger of EVOMAQ® (CFA) counts with a powerful monitoring computer, which generates accurate and real-time data on drilling and concreting, through detailed graphics that can be easily sent to the customer.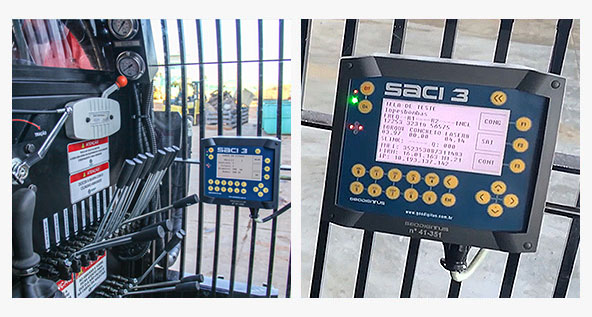 Engine
The model P50/17 from EVOMAQ® has a powerful 6-cylinder turbocharged MWM engine, designed to provide strength and performance. In addition, there are options to change the engine power, if required.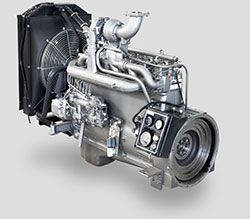 Conveyor
The conveyor of EVOMAQ® was designed for complex and muddy lands, facilitating its mobility on the construction site.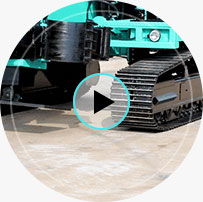 Head
The unique design of the drilling head of EVOMAQ® delivers high torque and allows drilling close to existing walls and constructions.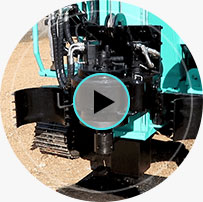 Hydraulic Tower Adjustments
In addition to greater agility, the hydraulic adjustments of the tower are essential for the safe displacement of the EVOMAQ drill rig on construction site.

When in movement, the tower can be tilted sideways and backwards, maintaining the center of gravity and providing even more safety for the operation. These adjustments also aid in drilling, and can be made to maintain the tower and, consequently, the auger on the plumb line.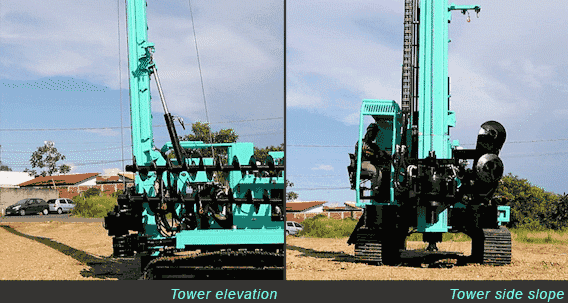 Turret Foot
In order to provide greater stability and safety when executing the pile, the turret foot has large dimensions, ensuring higher machine stability and precision when the auger is removed.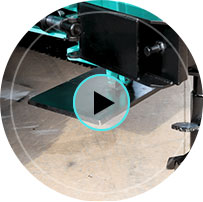 Hydraulic Leveling Legs
Equipped with hydraulic leveling legs, the P50/17 CFA drill of EVOMAQ® keeps the equipment level and the pile in the plumb line, allowing for better quality and safety in the execution of the piles.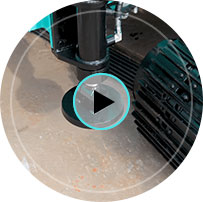 Hydraulic Vice
In order to maintain the auger alignment during the drilling, the drill of EVOMAQ® has a hydraulic vise system, facilitating and ensuring greater safety in work activities.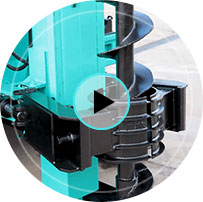 Auger Winch
To further facilitate everyday use, the P50/17 CFA drill of EVOMAQ® is equipped with a powerful lifting winch, allowing a much simpler, faster and safer assembly operation.
Auger Rack
A robust and reinforced racking system with ratchets and steel cable latches, which guarantees greater transport security during assembly and handling.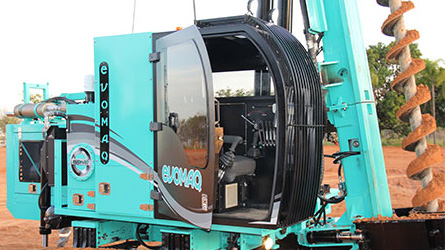 Cabin
EVOMAQ has developed its own cabin, specially designed for continuous flight auger (CFA). As a result, the customers will be able to experience a standout project with more comfort and safety, when using the drill. The end result combines beauty, harmony and advanced technology, adding even more value to the equipment.




Air conditioning in the cabin is a standard item of EVOMAQ.
OPTIONAL
Maximum torque of 5,000 kgfm
Engine MWM 6.10 TCA 215 hp
Get more torque with the powerful drill head option. Designed to work with 4 hydraulic motors, this head reaches a torque of 5,000 kgf.m, keeping it compact and providing considerable strength gain.

This option allows less component wear and a significant increase in productivity. All of this without compromising the biggest advantage of running piles close to adjacent areas.
Extraction Force of 32,000 Kgf
Opting for a more powerful drill winch is a great idea, allowing you to increase the extraction force. Get this improvement and equip your machine with 32,000 kgf of extraction force.
TECHNICAL SPECIFICATIONS
COMPARE THE P50/17 WITH OTHER CFA DRILL MODELS OF EVOMAQ
P50/17

Drill Rig

P50/20

Drill Rig

P80/20

Drill Rig

Overall equipment width
2,300

mm

2,300

mm

3,000

mm

Overall width of equipment for work
2,300

mm

3,500

mm

3,500

mm

Overall track shoe width
400

mm

500

mm

600

mm

Total track length
2,900

mm

3,500

mm

4,400

mm

Maximum transfer speed
2 km/h
2 km/h
2 km/h
Minimum drilling diameter
250

mm

250

mm

300

mm

Maximum drilling diameter
500

mm

500

mm

800

mm

Maximum drilling depth
17 m (11 + 6)
20 m (14 + 6)
20 m (14 + 6)
First gear rotation
30

RPM




5,000 kgf.m option only

30

RPM

13

RPM

Second gear rotation
50

RPM

50

RPM

26

RPM

Third gear rotation
-
-
35

RPM

Maximum torque
3,000

kgf.m




Optional 5,000 kgf.m

5,000

kgf.m

13,000

kgf.m

Extraction force
12,000

kgf




Optional 32,000 kgf

32,000

kgf

64,000

kgf

Engine and power
MWM 229-6 T 155 hp


Optional MWM 6.10 TCA 215 hp

MWM 6.10 TCA 215 hp
MWM 6.10 TCA 330 hp
Total equipment weight
11,4 tons
16 tons
22 tons
Download the Continuous Flight Auger Drill (CFA) Catalog – P50/17
REQUEST A QUOTE